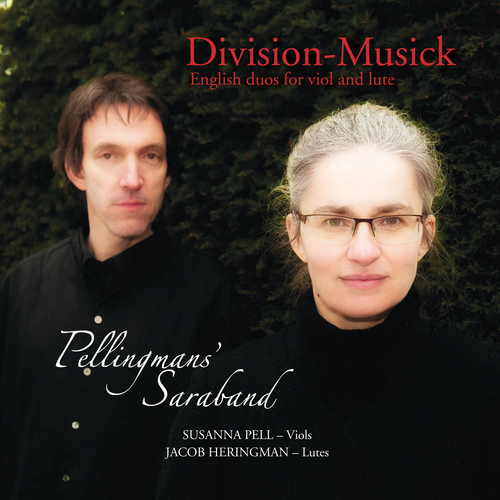 The Eccentric Press
Available Formats
Tracks
Price
Buy
CD Album
18 tracks

£

10.99

Download Album (

MP3

)
18 tracks

£

7.99

Download Album (

FLAC

)
18 tracks

£

13.75

Download individual tracks
From £0.99
Description
Pellingmans' Saraband - The Eccentric Press
Available on CD, MP3 and high quality 96/24 FLAC




The art of 'dividing' upon a ground bass, or playing 'divisions', was the Elizabethan and seventeenth-century equivalent of our modern jazz tradition. Skilled musicians, both amateur and professional, would improvise over a repeated chord progression (the 'ground'), or play variations on a popular tune of the day, often with astonishing inventiveness and virtuosity.




This recording explores some of the many composed, and therefore surviving, examples of this art. Lute solos alongside divisions played on treble, tenor and bass viols with improvised lute accompaniments make for a rich palette of aural colours and a vibrant and virtuosic recreation of sixteenth- and seventeenth-century music making in England.




Division-Musick was recorded on 6-8 February 2012 at St. Agatha's Church, Easby just a mile outside of Jacob and Susanna's home town of Richmond, North Yorkshire. Set beside the ruins of Easby Abbey this beautiful, ancient church with its rare 13th century wall paintings made a picturesque and tranquil venue with a perfect acoustic for our intimate music making.




Buy the CD and get a free digital (MP3) version.
Reviews
The artists make a strong case for their approach to this repertoire by sensitive and plausible arrangements coupled with fine playing. Susanna Pell plays stylishly and with impeccable virtuosity. . . . Her intonation is always spot on. . . . Jacob Heringman is a fitting partner as accompanist and his solos, however complex and difficult, are dispatched with that effortless smoothness that we have come to associate with his playing. . . . Overall, a very welcome release of attractive and thought-provoking music. . . .
Lute News No. 103, October 2012
If you don't have this CD in your collection then I urge you to treat yourself. It is a perfect gem. . . .
This is division music at its most sublime, played with deceptive and consummate ease. . . . [T]he listener is always carried forward by the momentum. . . . The freshness and clarity of the performance draws us into the complete unity between the two players.
North East Early Music Forum News, Autumn 2012
I was completely captivated by the playing which was exquisitely sensitive. . . . There was nothing showy or egotistical about it, but one was aware that these are musicians of the highest quality. One could be moved to wonder at the apparent effortlessness of Susanna Pell's playing of a set of divisions from Christopher Simpson's Division-Violist, or moved to tears by the plaintive beauty of Draghi's "Italian Ground". There are also lively pieces; it would be a very sad person whose spirits could not be moved to sheer joy by Pellingmans' Saraband's playing of "John come kiss me now". . . .
Jacob Heringman's playing is as masterly as one would expect from one of the country's top lutenists. Apart from the five pieces in which he plays the lead part as divisionist, such as Green Garters and The leaves be green, he has made the arrangements for the accompanying grounds of all the pieces. These are one of the principal delights of the recording, so well do they support and interweave with the divisions, and at times provide lyrical interest, for instance during the Italian Ground when the viol is resting.
Pellingmans' Saraband have made a superb start to their new recording venture and I for one will be eagerly anticipating what is yet to come.
The Viol, Summer 2012
". . . such poise, and subtlety and sincerity -- so beautiful."
Graham Coatman (conductor and composer)
". . . achingly beautiful . . . music which sends shivers down the spine. Magic stuff."
George Hinchcliffe (Ukulele Orchestra of Great Britain)
".......... your CD is one of my all time favourites - can't stop listening! It's so rare to hear this music played so well, with such sensitivity........."
Brooke Green (senior producer, Australian Broadcasting Corporation)
". . . .this has gone straight to the top of my "favourites pile" and I expect it to stay there for a very long time."
Stewart Hardy (www.stewarthardy.co.uk)
Tracklisting
CD Album (PS001CD)
Download Album (PS001D)
Pellingmans' Saraband

- Scotch Tune

Pellingmans' Saraband

- John come kiss me now

Pellingmans' Saraband

- Division [3]

Pellingmans' Saraband

- Division [4]

Pellingmans' Saraband

- Green Garters

Pellingmans' Saraband

- Paul's Steeple

Pellingmans' Saraband

- Division [7]

Jacob Heringman

- Will you walk the woods so wild

Pellingmans' Saraband

- Italian Ground

Pellingmans' Saraband

- Division to a Ground

Pellingmans' Saraband

- The leaves be green

Pellingmans' Saraband

- A New Division to a Ground

Pellingmans' Saraband

- Robin is to the greenwood gone

Jacob Heringman

- Go from my window

Pellingmans' Saraband

- Barafostus' Dream

Pellingmans' Saraband

- Greensleeves

Jacob Heringman

- A Ground

Pellingmans' Saraband

- Division [18]